Entrepreneurship Week November 14 - 18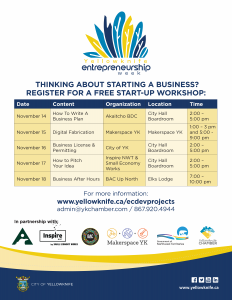 How To Write A Business Plan
Presented by Akaitcho BDC:
Our work is to improve economic health through building partnerships with other community organizations and to provide technical advice, business skills development counselling and access to business capital. Through improving economic health by building partnerships with other community organizations and providing technical advice, business skills development counseling and access to business capital we aim to create a strong local economy in the North.
Digital Fabrication
Presented by Makerspace YK:
This workshop is designed to demonstrate various types of digital fabrication equipment and act as primer on how to operate it.
Learn how to develop prototypes as well as manufacture and produce products in 3D. Participants will build digital literacy skills, learn about product development, and gain digital fabrication experience. Equipment covered: 3D printer, laser engraver & cutter, CNC machine, Cricut cutter
Business License & Permitting
Presented by City of Yellowknife:
Navigate the City's website to understand the business license application process, learn the differences between starting a home based business and a commercial business and the requirements for both applications. Examine different application scenarios for starting up a business within the City of Yellowknife.
How To Pitch Your Idea
Inspire NWT & Small Economy Works:
This workshop will walk participants through the process of developing and delivering a business pitch, through exploring successful methods of pitch design. Participants will have the opportunity to write their own elevator pitch for an idea they have developed, and will have the option to practice delivering their pitch and getting feedback from peers and instructors.
Business After Hours
Sponsored by the Black Advocacy Coalition (BACupNorth)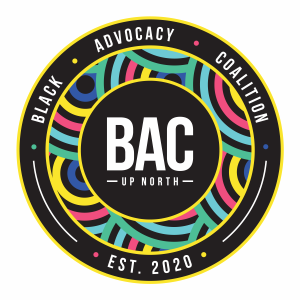 This social event will include Yellowknife business owners and potential funders. Enjoy a casual evening of meeting with other entrepreneurs and sharing ideas, pitching your own idea and generally meeting the friendly business community. Hosted at the Elks Lodge, cash bar.