Yellowknife Chamber reaches standard in excellence by the
Chamber Accreditation Council of Canada (CACC)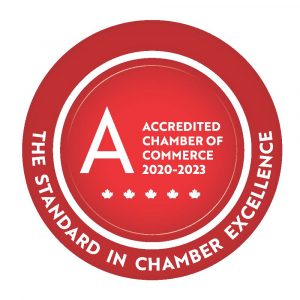 October 6th, 2020 (Yellowknife, NT) – The Yellowknife Chamber of Commerce has received accreditation, for the first time ever, by the Chamber Accreditation Council of Canada (CACC). The Council has examined our application and awarded accreditation for a period of three years – 2020 to 2023.
Accreditation verifies to our membership of 383 businesses that our organization is run in a strategic and professional way and has reached the standard in Chamber excellence. The 17-page application included 60 attachments - requirements to meet the highest national standards of policy development, membership service and chamber performance.
This accreditation demonstrates that the Yellowknife Chamber of Commerce has:
A strategic focus on core chamber activities;

Uniform practices and policies that are consistent with other chambers across the network;

Dependable governance procedures;

A distinctive brand identity; and,

A stronger "voice of business" for our community, along with a commitment to policy and advocacy work.
"Achieving accreditation has been an active 7-year process, with different components reflected in our strategic plans over that time," said Tim Syer, President of the Yellowknife Chamber of Commerce. "We work hard to provide value to our membership, to demonstrate strong ethics, good governance and sound financial management. Accreditation is a stamp of approval that our organization is well governed and well run."
The red seal of accreditation will be proudly displayed on Yellowknife Chamber of Commerce communications to showcase this achievement.