VISION:
Leadership. Service. Advocacy.
MISSION:
To be a leader in the continued improvement and development of a strong Yellowknife business community in order to support a diversified economy and sustainable growth.

Download our 2021-2023 Strategic Plan here.
Download our Bylaws here.
Download our Board Governance Manual here.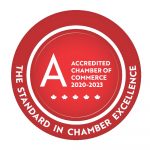 The Yellowknife Chamber of Commerce is accredited by the Chamber Accreditation Council of Canada (CACC).
Learn more about the accreditation process here.